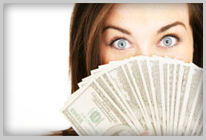 Whether you're looking for a new career or just another way to generate income for yourself, Ocean ATM may have the answer for you.
We have been in business since 1998 and have a very solid reputation in the ATM industry.
We pride ourselves on excellent customer service, integrity, and professionalism. If you have similar qualities and want to generate additional income and be your own boss, please read on.
Our Distributor Program is pretty simple. You sell or place the ATM machine(s) in a qualified location(s) and you get paid a finder's fee. In time, you will also share in the residual income.
Ocean ATM's Distributor program is turnkey. We'll provide you with all the necessary tools and training. You can even have sales representatives working under you.
In summary, if you're interested in generating additional income for yourself and being your own boss with no limit on your earning potential, please contact us through the form below: